No one will disagree that starting a blog is hard. To make it easier, I have put together a list of blogging tools for beginners.
Whether you are a beginner or a seasoned blogger, these are the essential tools that will help you grow and maintain your blog.
The blogging tools mentioned in this guide:
Canva
Canva is a really easy to use free image editor. They have lots of great looking templates to quickly put text on images.
Some things you may use it to create for your blog:
Logo
Infographic
Featured image
Pinterest image
Facebook post
Instagram post
Opt-in download
Printable
I use it for creating most of the featured images on this blog and also for social media images.
As you can see, I used it for creating the featured image for this post.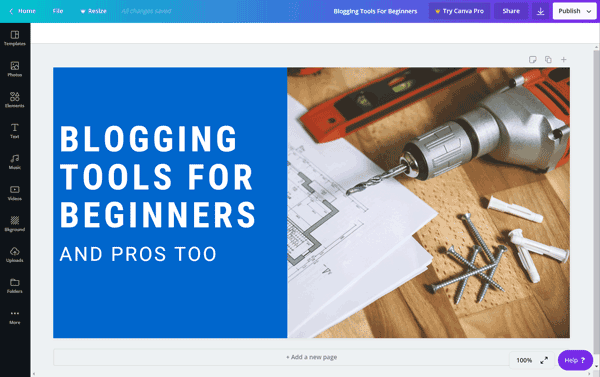 Free Stock Photos
Your blog needs photos. Even though a blog is generally a collection of words, your readers want to see images. While taking your own photos is preferred if you can, stock photos can bring life to your blog.
I use three free sites for my stock photos:
While they do have some of the same photos on each, there are also different photos on each. So check all three to find the perfect picture for your posts.
The stock photo I used in the featured image for this post came from Pexels for example.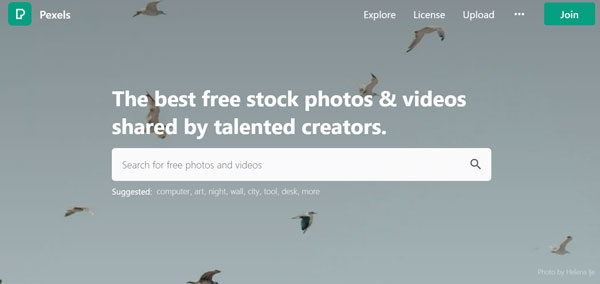 Google
Google is probably the ultimate tool for a blogger.
Can't figure something out with your WordPress blog? You can use Google to search for answers to your questions on how to do something for your blog.
Google is one of the best traffic sources for a blog. It will bring in organic traffic to your blog. These people are searching for the solutions you have.
It is the only keyword research tool you need. While other keyword tools may give you more information, their data is inaccurate or a calculated guess. Don't believe me? You can read my keyword research post to learn why.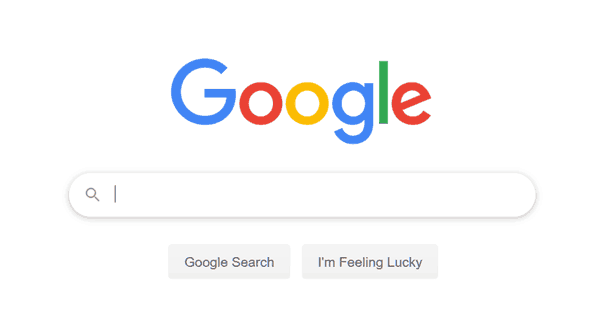 Google Analytics
How will you know if your blog is working? How many people read your blog posts? Where do your visitors come from? These are key things you need to know.
Google Analytics is a free tool from Google. It will allow you to see all kinds of information about the people visiting your site. You can use this data to make better decisions for your business.
For example: If you saw the bounce rate a on specific post was higher than average, you could rewrite it to be the best resource on the topic. Or if you see that one post is getting a lot of traffic, you could include links in it to other related posts. This would give readers a chance to see more of your content.
To learn how to set it up, visit my ultimate guide to Google Analytics.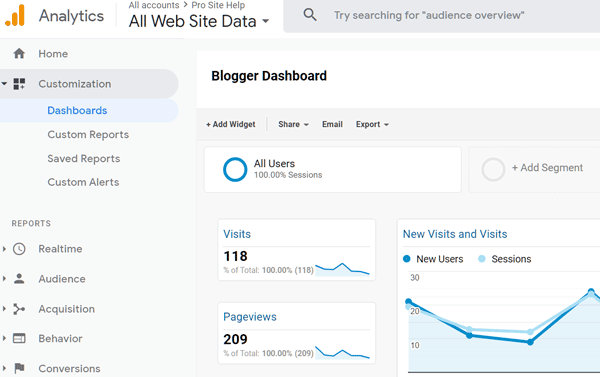 Hemingway
The Hemingway Editor is a text editor. But it isn't just that. It is like having your own professional editor looking over your blog posts.
Hemingway marks up your content. It will tell you things like "use less adverbs", "sentence is hard to read" or "phrase has a simpler alternative". It also gives you a readability score. Lower grade level posts get shared more.
I write my blog posts in WordPress and then copy them into Hemingway to check for grammar and readability problems.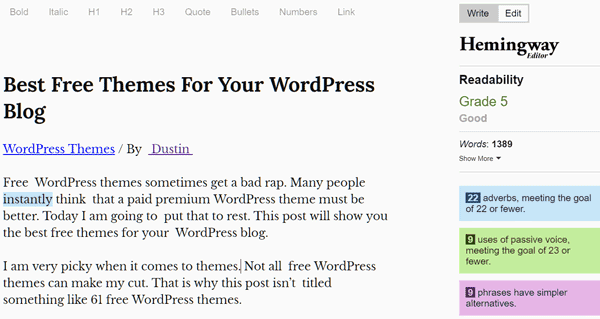 Updraft Plus
You need a backup. Blogging becomes even harder if you have to redo all of your hard work.
Updraft Plus is a free backup plugin for WordPress.
Before you make any changes, you can do a quick backup. WordPress plugins need to be updated often. If you do a backup just before updating your plugins, you can quickly go back in case of emergency.
Check out how to backup a WordPress site for a complete tutorial.

The SEO Framework
Google wants to see your sitemap. A sitemap is a file coded in XML that lists all of the post and pages on your site. The best way to create a sitemap for your WordPress blog is to use an SEO plugin.
The SEO Framework is my favorite free SEO plugin. It is better than the free version of Yoast or All in One SEO.
Other than a sitemap, it lets you set your meta title and description. These are the fields that Google will show in their search result. Write a good title and description for each post to entice people to click.

Conclusion
The tools above are not just blogging tools for beginners but the blogging tools everyone should use.
Some of the things you learned were; create compelling images with Canva, learn to write better with Hemingway, or save yourself from a heart attack with Updraft plus.
Are there any tools I've missed? Let me know in the new Pro Site Help Facebook group. It is free to join.