Free WordPress themes sometimes get a bad rap. Many people instantly think that a paid premium WordPress theme must be better. Today I am going to put that to rest. This post will show you the best free themes for your WordPress blog.
I am very picky when it comes to themes. Not all free WordPress themes can make my cut. That is why this post isn't titled something like 61 free WordPress themes.
That being said, I can't review every theme as there are thousands. In this post I will teach you my criteria for selecting the best free WordPress theme for blogging and list ones that meet and exceed my high expectations.
All of the free themes in this post are:
Fast WordPress Themes
With more than half of website traffic coming from mobile devices, page speed is a top priority. I think WordPress speed is so important that I even offer a WordPress speed up service.
All of the free blog themes listed below are fast. With the proper setup and no slow plugins added, they can get you load times in under 1 second.
Secure WordPress Themes
You have been writing your blog for years, getting lots of free traffic from Google and everything is great. Then one day you visit your blog only to find the content you poured hours into has been replaced with pharmaceutical spam. Google then penalizes your site and even after you restore your site from a backup (you had a backup right?) it will take months to recover your traffic from Google.
These days security is a must. Having a theme from a known good source is the foundation you need for your blog.
If you are going to use a free theme for your blog, make sure it is listed in the Official WordPress theme directory. The theme directory, shows how many people are using the theme, reviews, and reported problems.
All of the themes I recommend are listed in the theme directory, have hundreds of thousands of active installs and 5 star reviews.
Updated Regularly
A good WordPress theme is one that is updated regularly. A theme being updated regularly not only ties in with security but with compatibility.
If a new threat or vulnerability is discovered, you want to make sure your theme is updated quickly.
Also if WordPress or a plugin is updated, your theme must not conflict. If your theme was last updated a year or two ago, a new plugin may totally break your WordPress site.
This is where the problems associated with many free themes lies. The developer isn't getting paid for the theme so it is hard for them to justify spending time for continued support of the theme.
All of the themes listed here have paid versions or the developer makes money from other sources allowing them to regularly update their theme.
Responsive WordPress Themes
Just like I discussed in the speed portion of this post, traffic from mobile is dominating. A responsive WordPress theme is a must.
What does responsive mean? Responsive means the theme will change its layout depending on the screen size used to access it. Long gone are the days where you would create a separate mobile site.
Now you must have a responsive theme for your blog. It makes your content look great no matter what device your visitors are using. A phone, tablet, or a desktop with a huge display doesn't matter. With a responsive theme, your content will look like it was made for that device.
If you get a theme from any reputable source these days it will be responsive. So of course every theme in my list is.
Not Adding Code to Posts
Some themes apply style by adding code directly into your posts. Usually this happens when a theme has a built in page builder of some sort.
That means that if you change the theme, your post will look broken with code potentially showing along with your content.
You will have to go back and edit every post that had code added in order to fix it.
All of the free blog themes listed in this post do not add code to your posts. That means you can try any of them and switch to another later if you so choose.
Work With Page Builders
Over the past few years a few page builders have gotten really good and as a result have become popular. A page builder lets you change the design and layout of a post or page in WordPress without having to know any HTML or CSS code.
The two most popular page builders are Beaver Builder and Elementor. Every theme listed below will work with either of them.
Best Free WordPress Blog Themes
Astra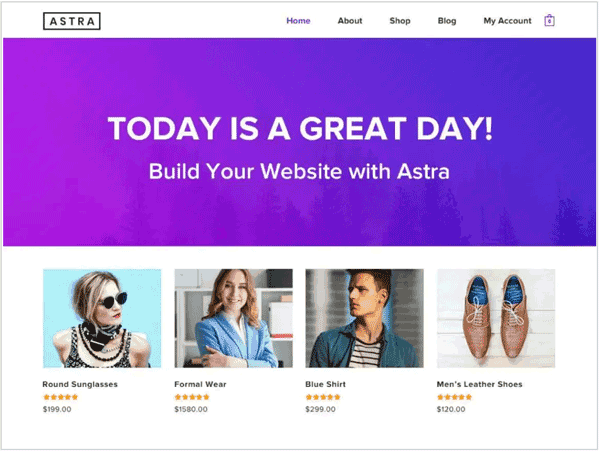 Astra by Brainstorm Force has more active installs than any theme outside of the WordPress default themes. Because of this popularity, it has tons of support. There are instructions on how to do just about anything with it.
It has become so popular because it loads insanely fast. They took care to optimize every part of the theme. Even with this relentless focus on optimization, it still looks great.
Like the other themes listed here, Astra has starter templates to help you get the look you want no matter what type of WordPress site you are trying to create.
GeneratePress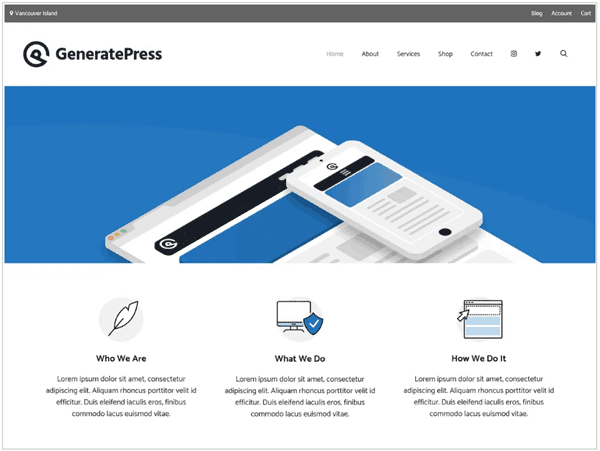 Before Astra came along GeneratePress was the speed king. In some tests it still beats Astra.
While it is a great theme, the free version feels a bit more limited in functionality compared to the rest on this list. If its style out of the box fits the look you want, I have no hesitation in recommending it to you.
Even though this post is about free themes, the Premium version of GeneratePress is worth noting. It is very inexpensive at only $49.95 for unlimited sites. That gives you a year of support and updates with a renewal discount of 40%. The support for GeneratePress is the absolute best support in the business. Tom, the developer is extremely responsive.
Neve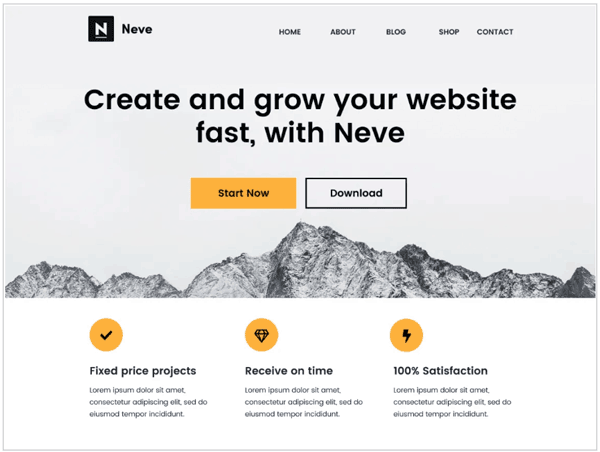 ThemeIsle is the studio behind Neve. They released the very popular Hestia theme prior to making Neve. Before Neve, they actually thought that Hestia was going to be the last theme they made. It was fast and versatile enough to build almost any kind of site.
Then page builders got really popular and Hestia didn't mesh well with all of them. Instead of making band aid type fixes for Hestia, the team at ThemeIsle made Neve.
Neve takes all of the success they had with Hestia and improves upon it in every way. It is faster and works great with page builders.
OceanWP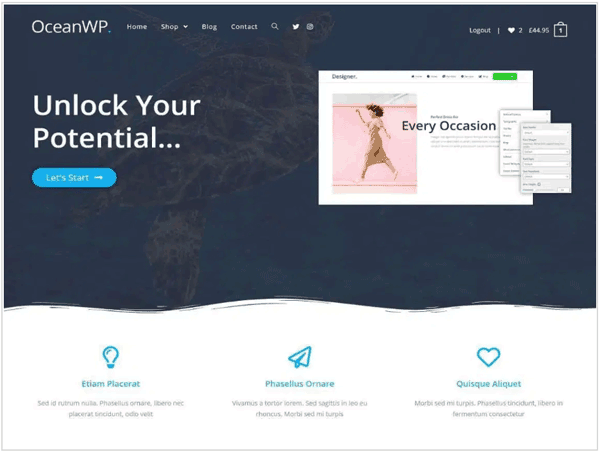 OceanWP could possibly be the theme that popularized transparent headers. The logo and main menu blend into the content at the top of the page. This look can make the right design look fresh.
While it is the slowest plugin of this group, it still loads fast enough to get top marks from anyone who is counting.
They really suggest using Elementor Page builder with it to get the most out of its design. If you are planning to use Gutenberg you may take a look at Astra instead. However, if you are already planning on using Elementor and the OceanWP style fits it is a great option.
Conclusion
In this post you learned how to evaluate WordPress themes. You know that speed, security, how often updated, and responsive design are of the utmost importance.
You can't go wrong with any of the themes listed in this post. They are all great free themes for WordPress blog.
If I had to choose just one (I did, this site can only have one theme), the best free WordPress theme for blogging is Astra. The absolutely only reason you shouldn't choose Astra is if you don't like its style.
Tell us what theme you like the best and why in the Pro Site Help Facebook group. If you have any questions or comments that is also a good place to leave them.